Recently in the news, reported by the Fox Network and various newspapers, incl. my local Coloradoan:  A North Carolina woman of the Wiccan faith locked horns with school district administrators.  She attempted to convince them not to allow the distribution of Christian bibles at the school her daughter was attending.
The school district did so, anyway.  How to deal with this?  As it happens, the law gave the mother, Ginger Strivelli, just what she needed to devise a strategy that created an untenable dilemma for the administrators.
The law reads that the administration has two choices.  1) If they refuse the distribution of materials from any faith, they must refuse distribution of materials from all faiths, and 2) if they allow the distribution of materials from any faith, they must allow the distribution of materials from all faiths.
This allowed Ms. Strivelli to establish 2 alternative objectives for herself:  either prevent the distribution of bibles, or distribute Wiccan materials at the school.  She preferred that the schools not distribute the bibles, but either would be an acceptable outcome to her.
And neither would be an acceptable outcome to the school district.  They would have to swallow one of the outcomes unacceptable to them, and she would walk away with an outcome that was acceptable to her.  She'd put them on the horns of a dilemma.  Damned if you do; damned if you don't.  Check one box.
Here's what her strategy looked like: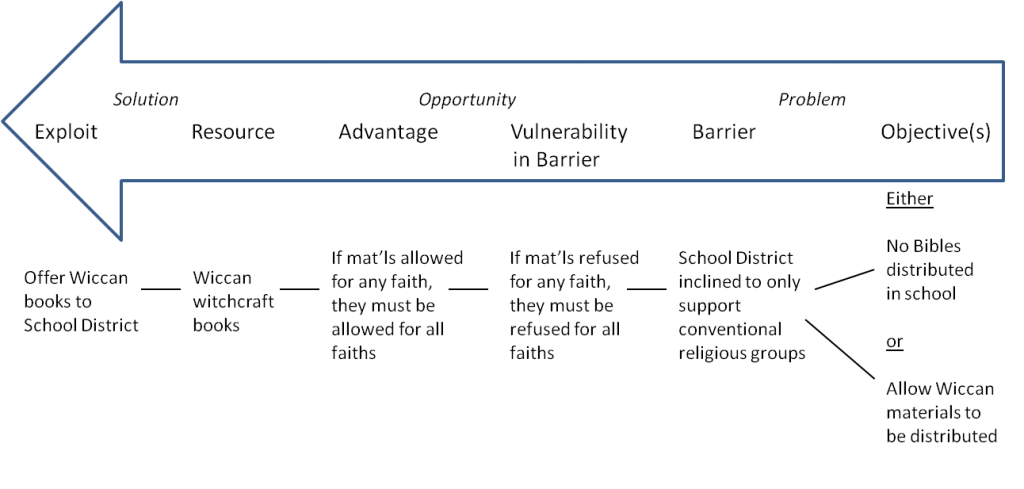 The administration's response was to stop the distribution of the Gideon bibles (while they "study" the school's policies in relation to the law).  Game over.  Ginger 1, School Dist. 0.
Sherman
When thinking about dilemma-based adversarial strategies, General William Tecumseh Sherman comes to mind.  No one exceeded Sherman in this kind of strategic thinking.
Here's an example from Sherman's Civil War playbook: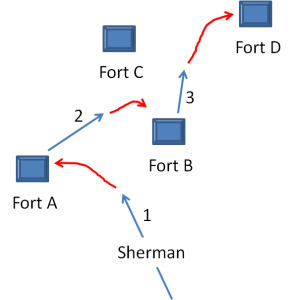 Sherman Creating Dilemmas
Sherman, with a substantial force, would threaten two Confederate forts, neither of which by themselves had the means to successfully resist him.  He'd march in a way that he could readily attack either fort (blue arrow path 1 in diagram).
The Confederates, not knowing where he was going to attack and not wanting to throw away their men and resources, would consolidate the bulk of their men and material from one fort (A) to the other (B), to have a credible defense there.  Sherman would then move toward and take essentially undefended Fort A.  Thank you very much.
Now based at Fort A, he would then drive ambiguously on a path (2) generally toward Forts B or C.  The Confederates, needing to solve the same puzzle as before, would have to choose between loosing Fort B or C.  They concentrate their forces in Fort C, and Sherman easily takes Fort B.  Thank you very much.
Now based at Fort B, Sherman makes a thrust (3) … well, you get the idea.  Sherman was a master at strategies that give an opponent only two choices, both bad, and then exploiting whatever choice they made.
Saddling an opponent with a dilemma is an indirect strategy.  Sherman, for example, didn't even have to engage the enemy force in order to take the forts (now that's indirect)!  He took them just by arranging the situation.  Nearly zero loss of his troops with this strategy – think about that.  Similarly with Ginger Strivelli.  She didn't have to go to court and win a legal battle.  She just had to walk into the school with a box full of scary Wiccan witchcraft books, and walk out with the termination of the school bible distribution project in her pocket.  Objective accomplished.  Thank you very much.
_________________________________
Readers are encouraged to add comments to this post.
And if you'd like to share or recommend the post, click on your preferred way in the left margin sidebar.
OK, I lied in the post before this one when I said that the next one would be about devising complex strategies.  I couldn't resist first responding to this dilemma strategy story in the news.  But I promise to get back on track in the next post, and as I said before, the good news is that Devising Complex Strategies is much easier than you may think.
If you're not currently being automatically notified when new posts are published, then please Follow Real Strategy (top of right hand column on this page), and indicate how you'd prefer to be notified.
For other posts of interest, look in the Smart Menu.
Ginger Strivelli image from Wild Hunt, a modern pagan blogsite authored by Jason Pitzl-Waters at http://www.patheos.com/blogs/wildhunt/tag/ginger-strivelli